Acne Scarring
Some forms of acne result in acne scarring. If left untreated, acne scarring can lead to long lasting effects which can severely affect quality of life.
How is acne scarring treated?
At LLC, we operate on one simple principle for acne scar, the deeper the scar, the deeper the treatment needed. Mild acne can be simply treated using chemical peels or hydrodermabrasion, but deeper scars need an aggressive approach. Hence, we recommend the use of CO2 fractional laser for the best resurfacing results.
CO2 Fractional Laser
The fractional microablative CO2 laser skin resurfacing treatment is the global gold standard for skin resurfacing. It is an extremely safe and effective way to treat the below conditions with low downtime:
Acne scars
Sun damage
Dark circles under the eyes
Freckles
Skin tightening
Stretch marks
Pigmentation
Rough texture
Enlarged pores
Fine lines
Wrinkles
Skin laxity on the face, neck, chest and arms
Surgical scars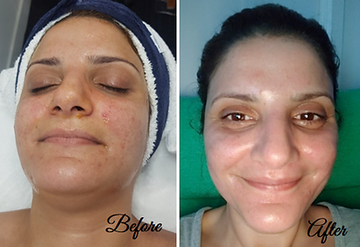 We also specialise in laser tattoo removal, anti-wrinkle and acne treatment, stretch mark removal and more. Book your free consultation online or call us directly on 07 3092 1378.
At LLC Cosmetice Laser Clinics
we use CO2 to treat variety of skin conditions ranging from a mild rejuvenation to an aggressive treatment approach depending on condition severity and required results.
CO2 fractional laser uses an ablative technique at a wavelength of 10600 nm that targets the water chromophore in the skin. The laser is scanned in a layer-by-layer fashion to avoid deep tissue destruction, thus making it suitable for mild and moderate acne scarring, wrinkles and all other uneven skin conditions. As the skin heals, the formation of new healthy collagen tightens the skin and smooths out scars, wrinkles and other uneven skin textures. CO2 laser is the most widely used treatment due to its clinical efficacy and therapeutic benefits which have been confirmed over decades.
Clinical studies including data from our clinic have shown a 40 – 50% improvement in acne scarring from a single treatment but results do vary between individuals.
This is really based on the initial consultation where your skin will be analysed to assess the treatment approach. Usually, 1-3 sessions are sufficient about 2-3 months apart. A small area will be tested initially to ensure that the treatment is safe and effective to you.
A detailed step by step guide will be provided during the consultation process for the CO2 treatment. During treatment, a numbing gel is applied before the laser treatment commences to keep you comfortable and the process usually lasts about 30-60 minutes in total. We recommend taking a set of medications to reduce discomfort prior to leaving home for the treatment.
Your skin will immediately start to feel a moderate sunburn as soon as the effectiveness of the numbing gel starts to wear off. You will be given post care instructions to follow with continual support from the clinician team. Continual application of SPF 50+ is a must after 7 days to keep the skin healing and away from sun You must be prepared for a week off or any heavy sports/exercise during your healing period.
Improvements in skin can be seen from a week after treatment and can continue to improve for three to six months post treatment.