Laser Hair Removal
Laser Hair Removal has never been easier with the trusted team at LLC Cosmetics. our team can make unwanted hair growth a thing of the past, with our efficient and reliable laser hair removal treatments at our state-of-the-art Brisbane clinic.


How does our laser hair removal work?
Hair removal lasers use light energy specific to a wavelength suited for your skin type to permanently damage and destroy hair follicles. A medical grade laser is scanned across your skin during the hair follicle's growth cycle to destroy it and prevent regrowth.
Which type of laser hair removal treatment would suit me best?
Treatments at LLC are performed using a Diode or an NdYAG laser depending on the hair that is suited for treatment. We can treat all skin types at our clinic.
Diode lasers are generally more effective on both hair types (thick/coarse and fine hair - also referred to as Terminal and Vellus hair), whereas NdYAGs primarily work on thick or terminal hair more effectively but not once the hair is finer. Diode lasers also provide a more uniform treatment depth without harming the skin, resulting in no dryness, irritation, or itchiness post treatment. In fact, most clients report an improved skin sensation post treatment on our medical grade diode lasers.
What should you expect on the day of your treatment?
Your treatment day is no different to any other day except you are asked to moderate sun exposure for a few weeks before and after treatment, with regular application of sunblock (SPF 30+).
On the day of your treatment, you'll be provided with an apron and towel (optional) in our treatment suites and positioned comfortably in our treatment beds. A layer of treatment gel is applied to protect your skin and you should only feel a slight warmth followed by tingles as the laser beam passes over your skin. After treatment is complete, post laser spray is applied in treatment areas to help you feeling refreshed and soothed after your procedure. It is remarkably painless, and most clients comment on how relaxing the sessions are.
Why should you choose us for your laser hair removal
At LLC, all hair removal treatment plans are assessed by a laser physicist and dermal clinicians on machines that are regularly quality assured and tested for optimum performance. Unlike most places, we only employ health professional staff with full radiation licences trained in radiobiology (not beauticians with trainee licences or worse; no licence at all!) to perform treatments, so you can be assured that you'll achieve best results as soon as possible.

Treatments are planned and quality checked by our physicist and dermal clinicians prior to your treatment, so you can only expect the best and not feel like a number rushed through an appointment. We also operate after hours, so you don't have to take the day off work for your treatments.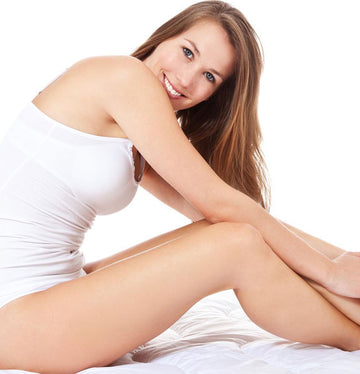 We also specialise in laser tattoo removal, anti-wrinkle and acne treatment, stretch mark removal and more. Book your free consultation online or call us directly on 07 3092 1378.
Frequently asked questions
Lasers can be used to carefully treat areas where hair follicles have enough pigment to attract light. This means hair on the face, underarms, bikini line, Brazilian, back, chest, arms, and legs – almost anywhere on the body.
Absolutely, one of the main reasons laser hair removal is ideal for men, is that men can suffer from thicker and more dense areas requiring regular waxing and shaving. Laser hair removal works effectively in areas like an entire back, legs, chest or stomach, certain unwanted tuffs, brazilian and face too. LLC offers specialist treatments for men's hair removal tailored to individuals.
In this era, laser hair removal should not cause pain. Laser treatment machines are much more sophisticated than before and with the right laser clinician you should feel gentle warmth followed by mild tingles.
At LLC only medical grade laser machines are used to ensure patient safety and comfort. Our treatment machines cause virtually no pain. Most patients describe it as a warm sensation with occasional tiny flicks. The more sessions you have, the less flicks you will feel as there will only be fewer hair follicles to target. Older laser models can cause excruciating pain especially in the hands of untrained professionals. Always trust a certified practitioner when it comes to any laser treatment.
When compared to traditional temporary hair removal methods like waxing, shaving and creams that need to be purchased for a lifetime, laser hair removal is permanent hair reduction which only requires fewer sessions between 8-10 in average to reach maintenance. Lesser hair means you only require maintenance sessions as few as once per year, once all the hair is treated. At LLC, you will find the most competitive prices for the everyday person who just wants to be hair free. No strings or package bookings needed. With such competitive pricing, you are good to pay as you go.
At our clinic, based on over 5000 treatments in the year 2019 alone, the average hair reduction was 70% after 12 treatments. Hair growth involves several factors so depending on your skin and hormonal influences, a tailored plan will be drafted by our clinician during consultation. Remember, you will most likely need a maintenance session every so often (for e.g., once every 6-12 months) once all the hair is treated as hormones can cause sporadic hair growths and will need to be kept in check.
Our treatments are designed after a series of medical history and skin phototype checks to keep you safe and your treatments effective. There may be a little redness which is the clinical endpoint for some skin types, but this should fade easily within 24 hours. Most patients report on an improved skin texture after treatments on our medical grade diode lasers.
Repeated waxing over a long period of time can not only affect your wallet but also cause hyper or hypo pigmentation (i.e., darkening or lightening of skin). Laser Hair Removal is not as abrasive and can infact improve the skin texture as reported by our patients.
No – there are no studies that relate infrared light and DNA damage causing irregular growth changes within the body. Cancer is caused by UV light where the harmful rays in the ultraviolet (UV) spectrum triggers DNA damage and tumor cell growth. With a radiation expert on site, you can always ask our physicist if you have any concerns with laser treatments. Laser hair removal uses the infra-red region of the visible light spectrum or red light that is absorbed by the pigment in your hair follicle causing damage thereby stopping the hair from growing back. This is very safe and causes no damage to your skin.
Laser hair treatment is safe for any skin as long as there is enough contrast between the hair follicle and skin with the darkest pigmentation in the hair follicle. The darker the hair the more light from the laser will be attracted to it, making treatments more effective.
Yes, it is completely safe when used by trained professionals. Laser hair removal uses the infra-red region of the visible light spectrum or red light that is absorbed by the pigment in your hair follicle causing damage thereby stopping the hair from growing back. This is very safe and causes no damage to your skin.